The key change in this version is an overhaul of the
Fog Of War
system, in response to community feedback.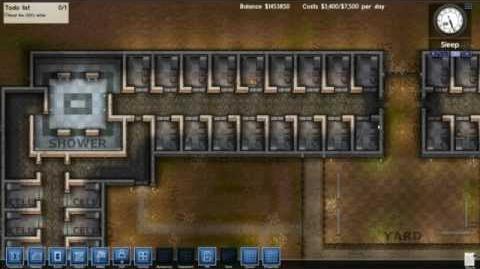 Almost immediately after launching
Alpha 3
we began to hear from alpha users that the rooftop style fog-of-war (which blocks out the view of the insides of your prison unless you have
guards
watching the area) was annoying because it stopped you from building things - you just couldn't see what you were doing.
Fog Of War Overhaul
Areas hidden by fog-of-war are now rendered in darkened greyscale instead the solid roof effect
Walls, floors and Static objects under fog-of-war remain visible but greyed out.
Guards and Cctv now have a longer view range.
The Chief has a long view range
Workmen, Cooks and Doctors have a short view range
Other
The game is now more permissive when loading corrupted saved games. It will no longer crash.
Errors in the save file will be reported to debug.txt.
Ad blocker interference detected!
Wikia is a free-to-use site that makes money from advertising. We have a modified experience for viewers using ad blockers

Wikia is not accessible if you've made further modifications. Remove the custom ad blocker rule(s) and the page will load as expected.