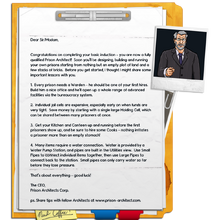 The first task given when starting a new prison is to read the CEO's letter and prepare for prisoner intake. The letter contains a few important things that are not covered in the tutorial such as water management, the use of holding cells, and food service. 
Letter Transcript
Edit
"Dear Sir/Madam,
Congratulations on completing your basic induction – you are now a fully qualified Prison Architect! Soon you'll be designing, building and running your own prisons starting from nothing but an empty plot of land and a few stacks of bricks. Before you get started, I thought I might share some important lessons with you.
1. Every prison needs a Warden – he should be one of your first hires. Build him a nice office and he'll open up a whole range of advanced facilities via the bureaucracy system.
 2. Individual jail cells are expensive, especially early on when funds are very tight. Save money by starting with a single large Holding Cell, which can be shared between many prisoners at once.
  3. Get your Kitchen and Canteen up and running before the first prisoners show up, and be sure to hire some Cooks – nothing irritates a prisoners more than an empty stomach!
  4. Many items require a water connection. Water is provided by a Water Pump Station, and pipes are built in the Utilities view. Use Small pipes to connect individual items together, then use Large pipes to connect back to the station. Small pipes can only carry water so far before they lose pressure.
That's about everything – good luck!
The CEO,
Prison Architects Corp.
ps. Share tips with fellow Architects at www.prison-architect.com"
Ad blocker interference detected!
Wikia is a free-to-use site that makes money from advertising. We have a modified experience for viewers using ad blockers

Wikia is not accessible if you've made further modifications. Remove the custom ad blocker rule(s) and the page will load as expected.