This article is a stub. You can help the Prison Architect Wiki by expanding it!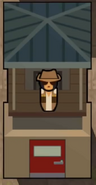 Guard Towers are 2X2 objects that can be placed around your prison, inside or outside. Guard Towers are also known as Sniper Towers. In order for these to work you must purchase them from the objects and hire a sniper from staff to operate it. We recommend placing them near exits in order to prevent escapes, but you could also place them near the yard to prevent fights. Towers increase danger but are very useful when it comes to security. The Guard Tower's maximum range is 48 blocks. Snipers will not shoot warning shots for prisoners that are outside the facility, but they will for prisoners causing trouble inside before they take their target down. If you activate free fire, Snipers will not fire warnings shots before taking their target down.
Size: 2x2
Requirements:
Unlock "Guard Towers" on the bureaucracy tab (Needs a Chief).