Ingredients are used by Cooks working in a Kitchen to prepare the meals for Prisoners. Cooks turn Raw Ingredients into Cooked Ingredients, which can be eaten by prisoners. Ingredients cannot be bought or sold, only Dumped. The amount of Ingredients is controlled automatically based on the prisoner count and 'Meal Quantity' in Policy.
There are four types of ingredients: Cabbage, Potato, Bacon, and Egg. Ingredient variety in the meals is determined by the 'Meal Variety' in Policy.
Ingredients by Meal Variety
Edit
None: Only Cabbages
Low: Cabbages and Potatoes.
Medium: Cabbages, Potatoes, and Bacon.
High: Cabbages, Potatoes, Bacon, Eggs.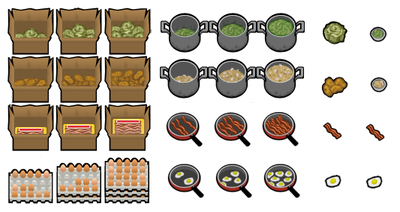 Cabbages; Potatoes; Bacon; Eggs.
Raw Ingredients in storage(3); In process of cooking(3); Dropped; On the Food Tray.
Ad blocker interference detected!
Wikia is a free-to-use site that makes money from advertising. We have a modified experience for viewers using ad blockers

Wikia is not accessible if you've made further modifications. Remove the custom ad blocker rule(s) and the page will load as expected.