Needs in Prison Architect illustrate what prisoner or prisoners need to behave, not try to escape, and be happy. A Psychologist is required to access this information. There are two types of Needs: the Needs tab which can be found under Reports; and a small list which can by found by hovering with a mouse over a prisoner.
The Needs tab shows a bar chart that combines every prisoner by their need. Each bar has following colours:
Red
Orange
Yellow 
Green 
Blue 
Prisoners with orange or red needs will increase a prison's danger level, and may incite riots. 
The small list when mouse is hovered over a prisoner shows only needs of that particular prisoner. If there are no needs, prisoner is completely happy. Plus signs indicate how much the prisoner wants that need. If a need is written in capitalized letters, or there are 10 plus signs, this need is completely unfulfilled, and is considered a critical need.
There are currently 14 needs: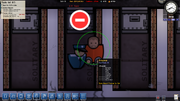 | Need | Need increasing factors | Reducing the need | Time to reduce the need | Notes |
| --- | --- | --- | --- | --- |
| Bladder | No toilet | Toilet | Any time | |
| Bowel | Eating | Toilet | Any time | |
| Sleep | Not sleeping | Bed | Sleep | Persisting high sleep need may be a sign of a prisoner digging an Escape Tunnel |
| Food | Goes up by itself | Canteen | Eat | high food needs can provoke riots. |
| Safety | | | | |
| Hygiene | | Shower | Shower/Freetime | |
| Exercise | Take exercise of the regime | | Yard | |
| Family | | Visitation area | Freetime | |
| Freedom | lockdown. | decreases every day | Freetime | High freedom need and a digging item prompts a prisoner to dig an escape tunnel |
needs updating
Bladder - Can be decreased by using a toilet.
Bowels - Can be decreased by using a toilet.
Sleep - Can be decreased by sleeping in the bed.
Food - Can be decreased by eating. Prisoners health will decrease gradually if this need has been ignored over time.
Safety - Can be decreased by preventing incidents.
Hygiene - Can be decreased by taking a shower.
Exercise - Can be decreased by exercising in yard or on a weights bench.
Family - Can be decreased by using a phone or when visiting a prisoner in a Visitation room.
Recreation - Can be decreased by using a TV or a pool table.
Environment - Can be decreased by having clean surroundings (cleaned indoors by janitors or prisoners assigned to cleaning duty and outdoors by gardeners)
Freedom - A measure of how much a prisoner wants to escape. Freedom decreases by itself every day. It increases during lockup.
Clothing - Can be decreased by recieving clean uniforms from the Laundry job.